Trials and Tribulations artwork in-situ, prison library. Photography Geoff Broadway
How can you engage and collaborate with young offenders to improve their environment and deliver positive behavioural messages?
The Detail
Project Trials and Tribulations, Prison is a State of Mind, 100%
Role Project Manager / Participatory Artist
Sector Learning / Health Wellbeing
Skills Design / Exhibition / Creative Workshops
Collaborators Catherine Tarbuck / Dan Griffin-Hayes
Funders NADFAS, HM Ministry of Justice, HM Prison Service
Over several years, We Can Create have worked with young offenders and artists to co-create a number of artworks within a prison environment to help promote positive behavioural messages.
Trials and Tribulations was a project that aimed to share the message that taking part in the prison's available education courses could help improve and change the course of a young offender's life.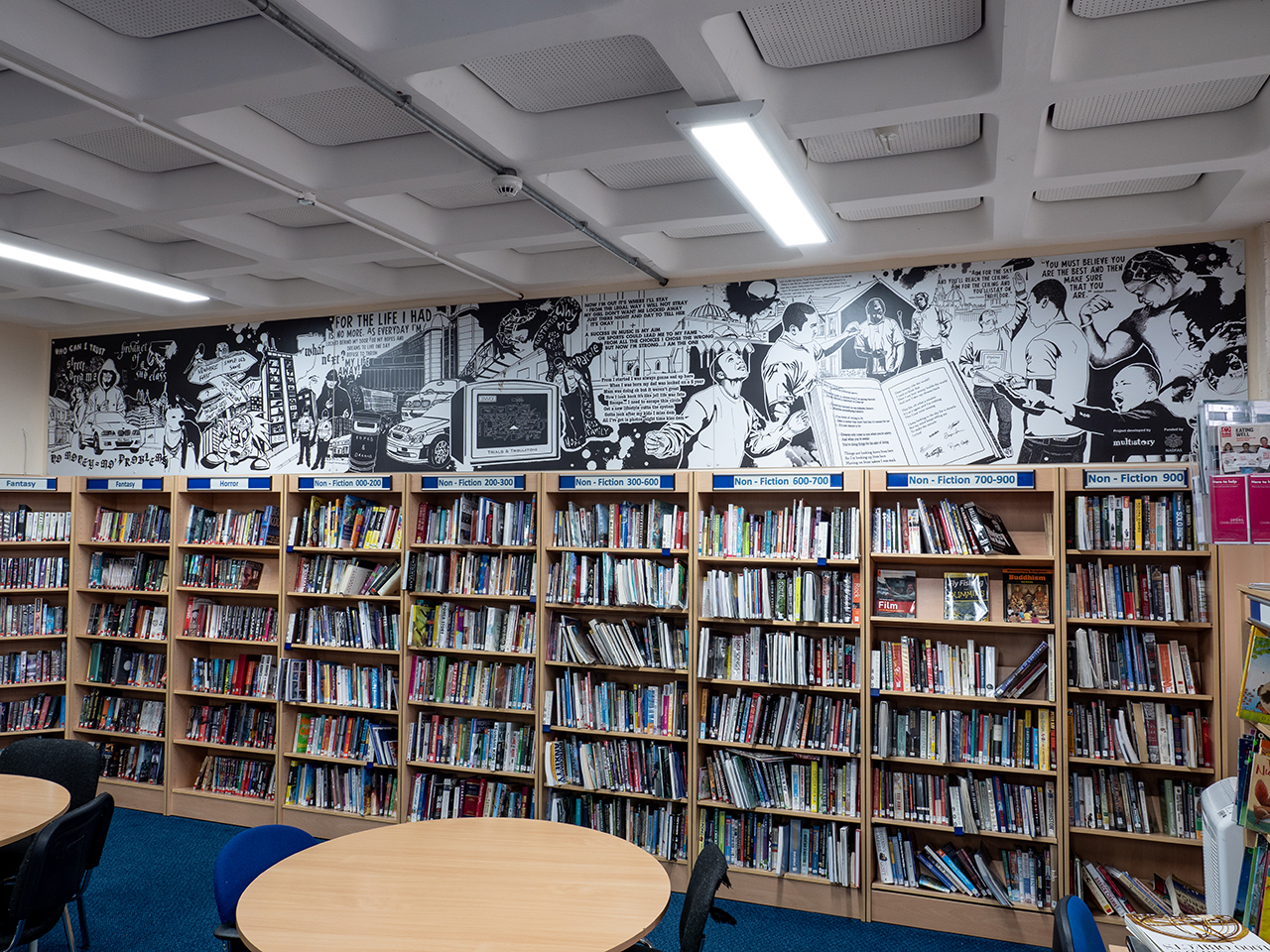 Six young offenders that had an interest in music, drawing or creative writing were invited to take part to share positive messages. Taking inspiration from graphic novels, famous writers, academics and thinkers the young offenders were given paper and pencils to help to share their own stories while working together to produce one piece of large-scale artwork.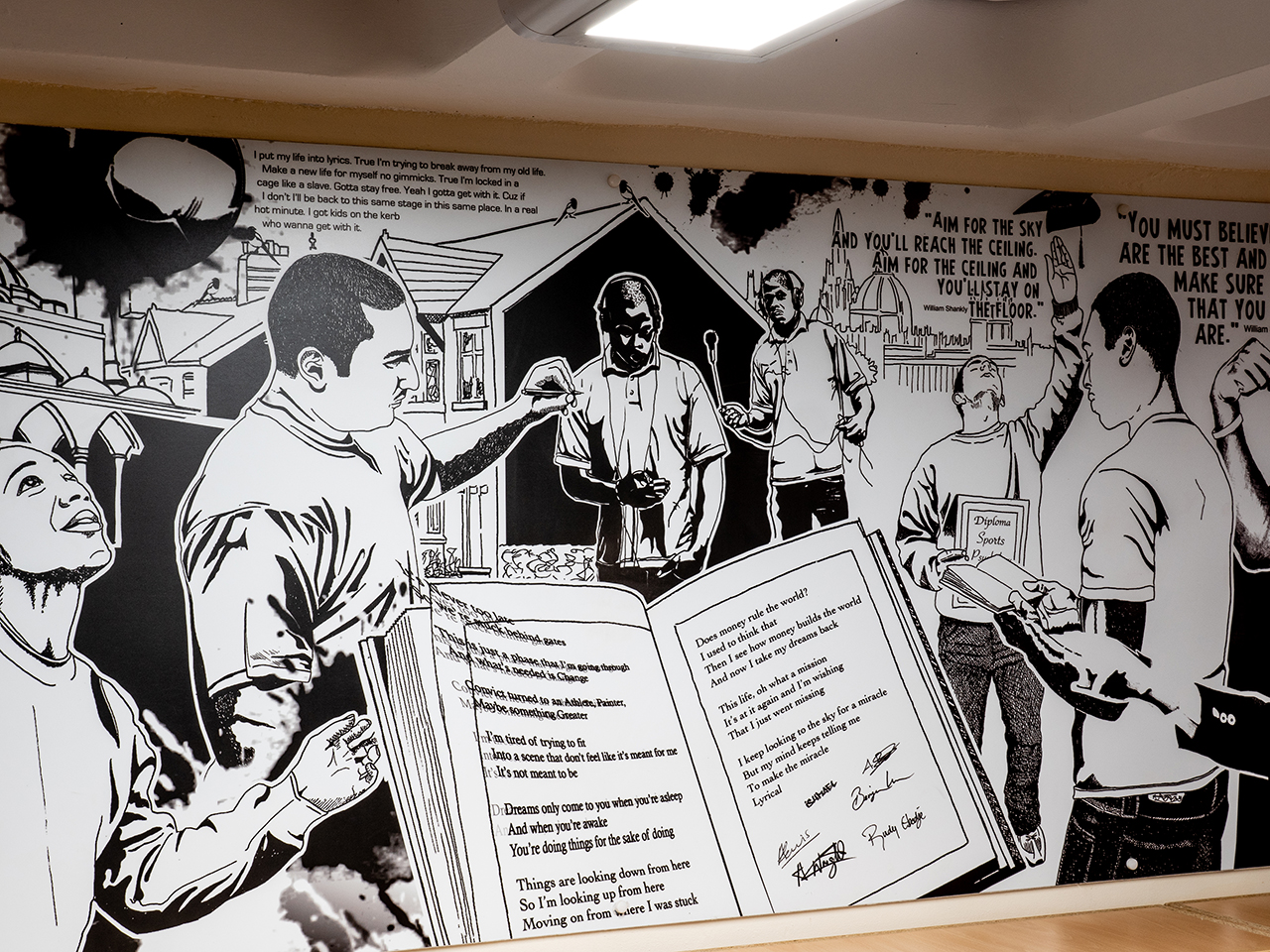 The group, with the facilitation of artists Rich Franks and Catherine Tarbuck, produced a 4 meter wide mural for the library that offered up an honest account of their own lives using a car satnav as a metaphor for the journey of life; for example street names were changed for the directions that could be chosen as routes to a more positive or negative lifestyle.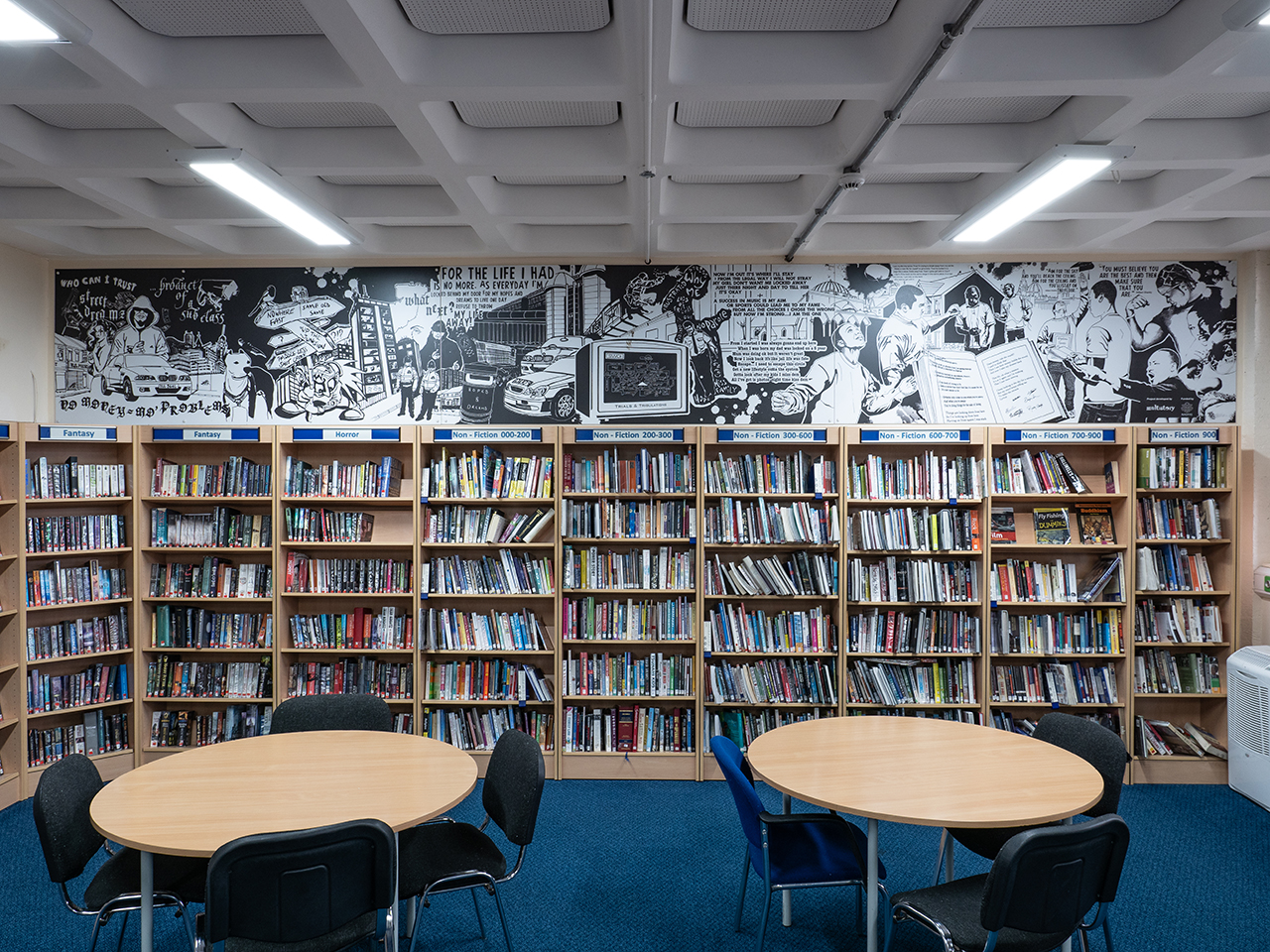 The final artwork tells the collective story of the life young offenders have come from to where they could go in the future, with the  piece depicting well known leaders, writers and thinkers who are their inspiration. These included Malcolm X, Martin Luther King Jr., Shakespeare and Buddha.
The artwork was shown at an exhibition at Lichfield Cathedral as a part of Prison Week before being installed at the prison library, where it is now a permanent piece of artwork. It is hoped that those who see it will be inspired to take up the educational courses that the prison offers.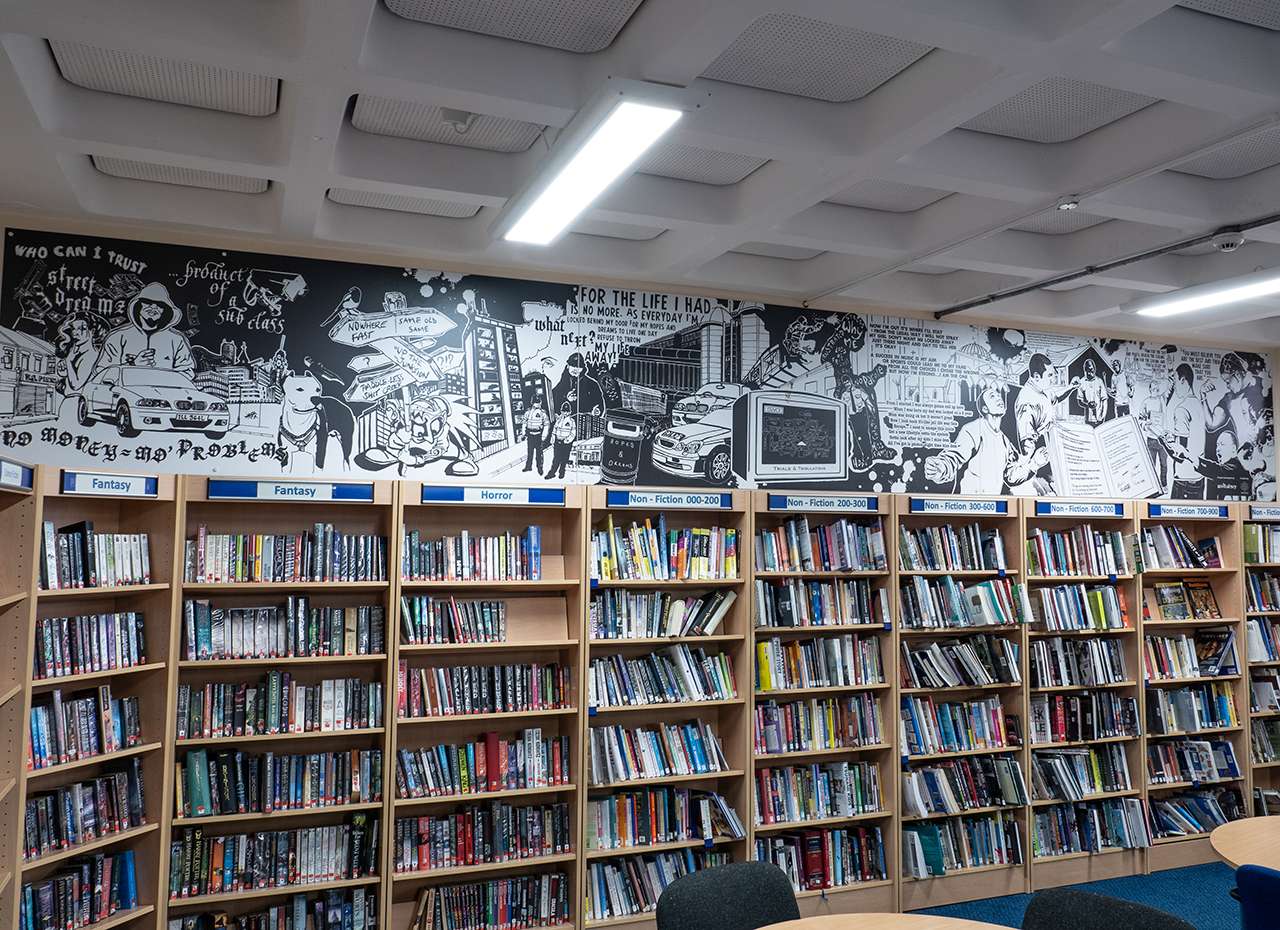 Prison is a State of Mind is a violence reduction program that We can Create were invited to work on with the prison. Young offenders were given the opportunity to work with artists Dan Griffin-Hayes and Rich Franks who facilitated creative sessions inspired by music, street art, real life experiences and spoken word.
For those with a talent for drawing, writing or spoken word, and who wanted to be part of something creative, it offered the opportunity to work on a 17m long illustrated piece of work featuring their own work and ideas. It also included the artwork of Daniel Griffin-Hayes based on the ideas from participants, and pastiche's of famous street art and artists that participants admired. The final piece was brought together as a collective artwork by Rich Franks and Daniel Griffin-Hayes.

There are a number of sections to the final artwork, with individual illustrations, quotes, life experiences and poems. The final artwork is a collaboration between, participants, artists and prison staff. It is hoped that the anti-violence messages will help to educate young offenders that violence does not solve problems it simply makes situations worse.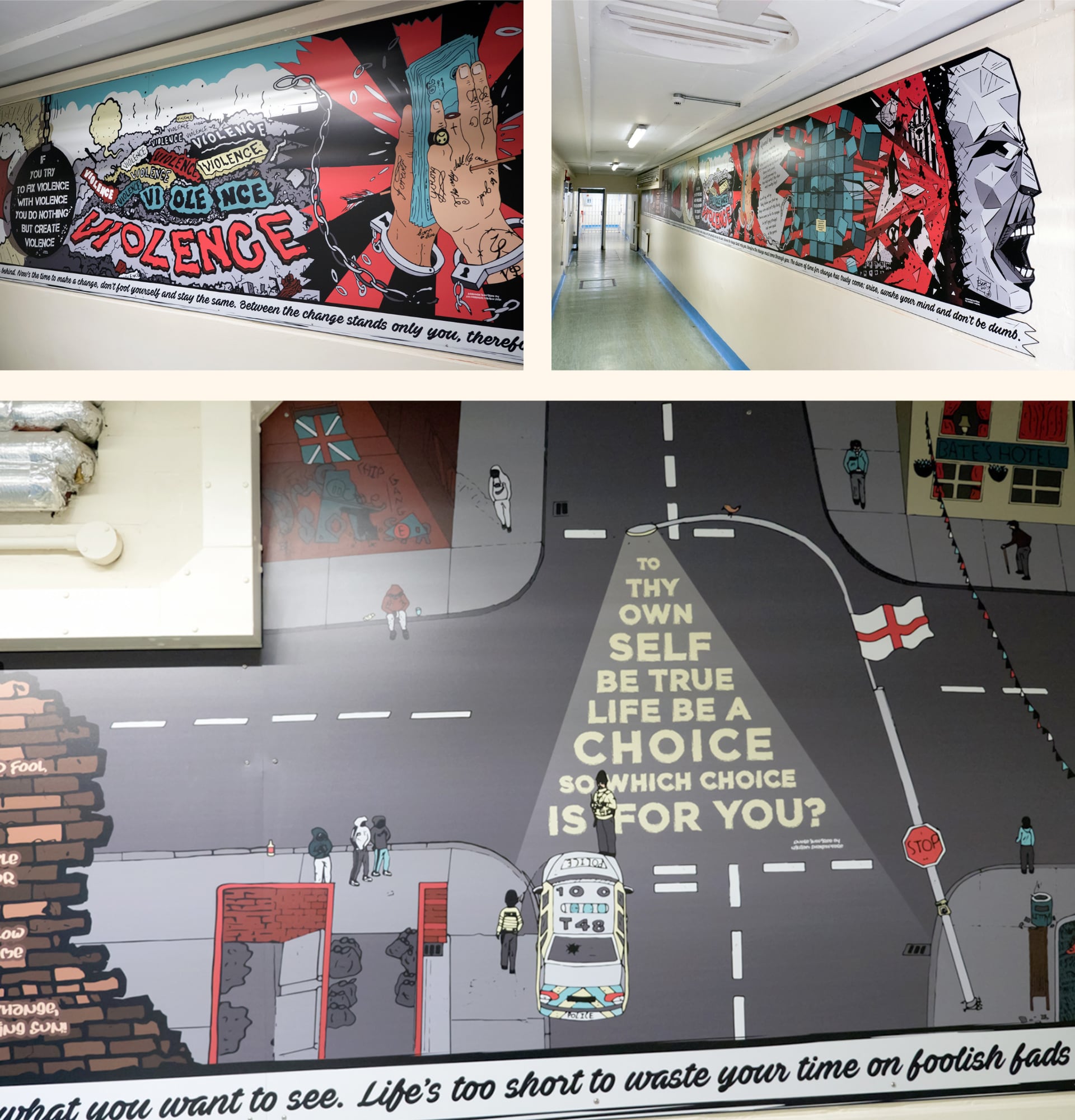 For 100% Young offenders who worked in the prison's gym were given the opportunity to re-decorate the gym walls. They designed the final gymnasium decoration after choosing words and retro-styles inspired by famous gyms in the United States such as Gold's Gym, Los Angele's and from feedback from staff and fellow gymnasium users within the prison.  Workshops were facilitated by artist and illustrator Dan Griffin-Hayes and artist and creative producer Rich Franks.

The young offenders chose big, bold statements and colours to convey simple but inspirational and practical messages that could be shared with other inmates using the facilities. They primed walls, painted and decorated, and helped with the typography and illustration of the final artwork. Working alongside artist Daniel Griffin-Hayes and the painting and decorating education team at the prison, the final result is a bold, striking and refreshed gym that can be used by the young offenders and staff.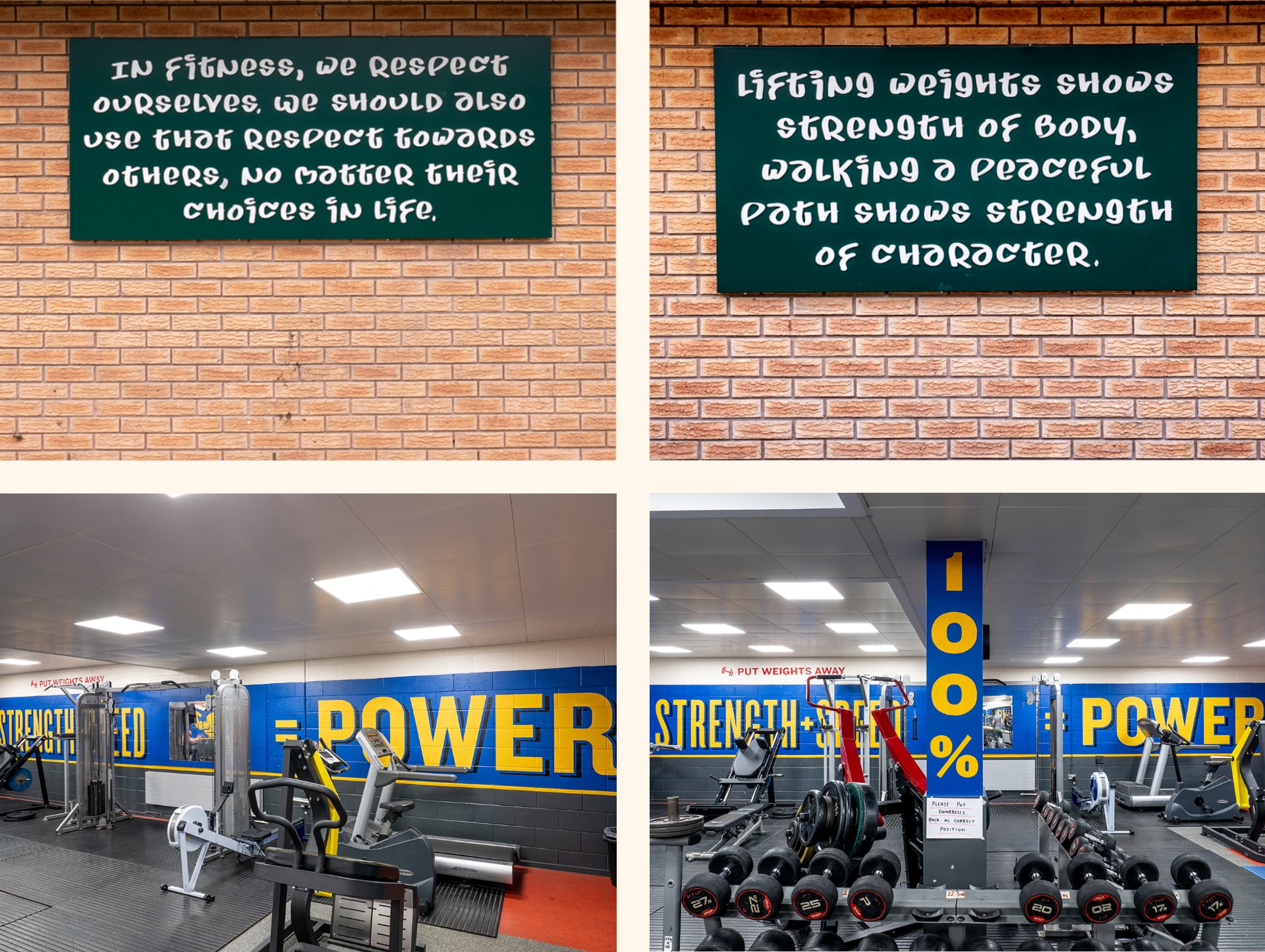 Feel free to discuss your project with us so that we can share with you what could be possible and build an ambitious idea that goes beyond what you might have thought possible.